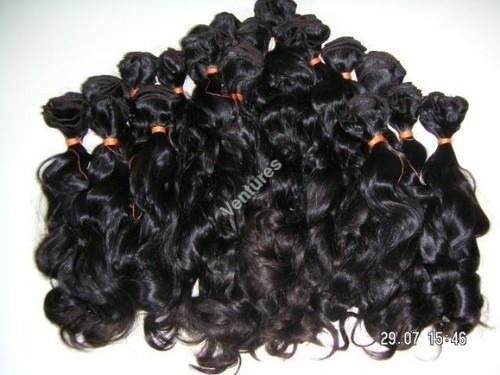 100% Indian Virgin Human Hair
Product Code : 057
Product Description
Backed by our wide distribution network and expert manpower, we are considered as the foremost manufacturer and exporter of Indian Virgin Human Hair. Our entire range of human hair is free from microbial infections, harmful chemicals and broadly used to make elegant hair extensions and wigs. The demand of our Indian Virgin Human Hair is increasing day-by-day due to its high durability, natural look and excellent shine. To cater to the expected needs of the customers, we provide our range in different lengths and soft textures.
Further details:
Indian Virgin Human Hair

The Indian human hair is always in great demand not only in India but also throughout the world. The demand of human hair is still increasing day by day; Chennai has become one of the largest processing and manufacturing hub for human hair and hair products. These human hairs are collected from temples and different villages throughout India. Further these hairs are processed and exported throughout the world. Human Hair Ventures is one of the leading exporters of human hair. our company is situated in chennai, the capital of Tamil Nadu, formally known an Madras. We have so far completed 4 years in the field of human hair export. At present we are exporting human hair almost all over the world like Belgium, Brazil, U.A.E, Italy, Germany, Denmark, Egypt, USA, U.K. etc. Our company is unbeatable from whatever angle you may look: quality, Variety, range, conformity to client specification, packing and delivery. We have well equipped quality control department ensure that the products conform to all major international standards. Located in chennai,tamil nadu, we produce a wide variety of human hair items like remy single drawn,non remy double drawn ,bleached hair,wefted hair,wigs and tipped hair for women. These hairs are of good quality and are popular with customers. Our total production averages 10,000 to 20,000 kg per year depending upon market demand, 70% for export and 30% for the domestic market. We at Human Hair Ventures will work with you to produce the types of human hair products that will sell well in your stores. We guarantee both our quality and on time delivery of shipments and our prices are very competitive. Hair is greatly revered in the Indian culture and we as a family of hairstylists and businessmen trace back our origin to the early 1990. Similar to changing trends in fashion we too have learnt and evolved into an enviable business house with global recognition in this hair trade due to the ceaseless efforts and managerial excellence of our creators. Hair a major item of human anatomy gives us a lusturious, complete look.Indian people use natural ways to make their hair good. therefore the Indian hair is natural hair and can be heated, coloured, curled, and blow-dried. human hair in India is free of chemicals, hence there is always a good value and quality for Indian human hair.