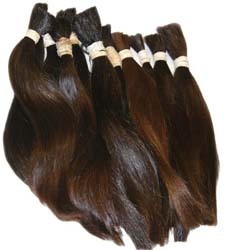 Bulk hair
Product Code : 388
Product Description
Bulk hair is also known as loose or braiding hair. The hair we offer in bulk is always in correct cuticle alignment (remy) with the cuticle direction flowing down to the ends.
Bulk hair can be an original ponytail where it is one bundle of hair cut from one person.
All hair used in extensions or hairpiece making begins as bulk and is then worked to prepare it for wefting, ventilating or to make pretipped hair. Bulk hair can be used for pinchbraids, tree braiding and heat seal extensions. It is also used as an anchor to build up the natural hair for sew-in weaves.
Handle with care as it is only secured by a band or with bound thread. If you plan on sending your bulk hair out for wefting, do not wash or comb as you may lose hair from the bundle. Do not untie until use as it may spill causing the hair to become inverted.