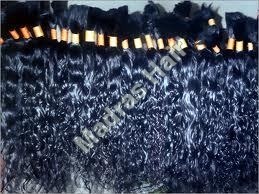 Bulk hair wavy
Product Code : hhv 2
Product Description
Human Hair Ventures , The world's greatest fashion centers. Mr.S. Shamshuddin, managing director of Human Hair Venturesis an industry leader, dealing with the supply and export of 100% Natural Remi and Non-Remi Hair from India. Human Hair Ventures today stands as one of most resourceful enterprises in the human hair export trade of India. We have successfully penetrated and established our presence in the International market.
We enforce and adhere to stringent quality procedures that enable us to provide you with the finest qualityhuman hair in the market today. We believe in the beauty of nature, which is why we give our customers the choice of natural colours which include, Natural Black human hair suppliers, Dark Brown human hair suppliers, Light Brown human hair suppliers, Medium Grey human hair suppliersand White human hair suppliers. We preserve the natural colour and texture of the human hair throughout the sterilization process. In this context human hair Ventures has also been one step ahead from the start: so far no other system has developed a similarly non compromising technique of attaching additional strands to the customer's own human hair. It goes without saying that only 100% natural human hair of the highest quality is used. It is ,therefore, no wonder that INDIAN Human Hair should have established itself on the worldwide market within a few years. We are offering our services over world wide with increasing success.
Based at Chennai (Madras), South India, Human Hair Ventures, human hair suppliers is a name to reckon with, when it comes to supply of quality Human hair. Our stringent commitment towards maintenance of international standards of quality has seen it grow by leaps and bounds, from its modest beginnings, to become the most preferred choice of international clientele, in a relatively short span of time. Quality is the mantra for our overwhelming success, in spite of the presence of giants. We concentrate on quality, irrespective of the quantity. 100% Virgin Remi human hair, single drawn human hair, hand made wefts, Machine wefts human hair, Pre Bonded human hair, bleached human hair in various colors, you name it and we have the product ideally suited to your requirements.
Our production unit boasts of world-class infrastructure, manned by the finest talents in the industry. We understand every customer need and work in close association with them to supply quality human hair. Our team procures only the best quality human hair from various parts of India and processes it to give quality finish. Our reputation has crossed international borders and we have significant global presence, spreading across almost four continents of the world. It is only a matter of time before we, very soon; spread our wings throughout every part of the world.
Offering a wide variety of stylish Human Hair and Hair Accessories such as Virgin Remi Bulk Hair, Virgin Remi Single Drawn, Hair, Machine Weft Hair, Hand Weft Hair, Micro Weft Hair, Keratin Extension, Pre-bonded Hair, Clip-on Extensions, Bleached Hair in Various colors, Skin Weft Hair, etc.