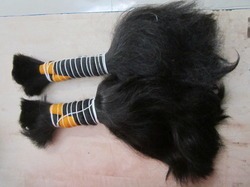 Double Drawn Human Hair
Product Code : 626
Product Description
Double drawn hair is the most expensive as every hair of the ponytail has been separated into different lengths. This is a very skilled process and very few people within the UK either prepare or sell or by in this hair as it's very rare and most people find that that is just not cost effective.
This hair is the same thickness from root to tip as every hair is exactly the same length.
There is a huge demand for this hair as it looks stunning when it's prepared , however most customers who buy this go on to have it fitted and then cut layers into it, when in actual fact what they are doing is turning the hair back to single drawn.
Double drawn hair is best for those who prefer a one length look.