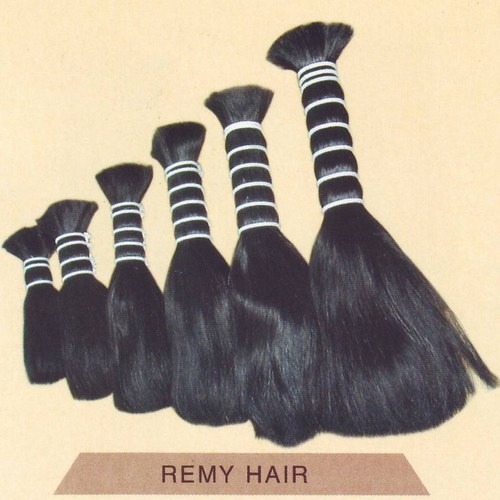 Remy bulk hair
Product Code : 416
Product Description
Remy hair has a smoother, shinier, and healthier appearance than regular human hair. When washed, it will not mat and tangle. Virgin Remy hair has not been chemically processed; this hair is raw and natural in other terms. Non-virgin Remy hair underwent some sort of chemical processing in order to achieve another color.
Remy Hair is categorized into two types:
1) Remy Bulk Hair Single Drawn (R.S.D): This type of Remy Hair is taken out directly from the scalp by shaving the head. Care is taken to remove the very short hair, with the longer hair, found in different hair length, giving a pony tail like appearance.
2) Remy Bulk Hair Double-Drawn: This hair is trimmed at both ends leaving the upper and lower parts in their respective natural condition. . It is the most expensive type of Remy hair because it takes meticulous time to sort the cuticles.
1. 100% Indian Remy Human Hair.
2. Style: Straight hair, Weave Hair, Curly hair.
3. Length: 8" to 32" available.
4. Color: Natural colours, #01, #1B, #02, #04, #6, #08, #12, #14, #16, #18, #22, #24, #27, #29, #30, #31, #33, #35, #613 and also can be customized at buyer's request; etc.