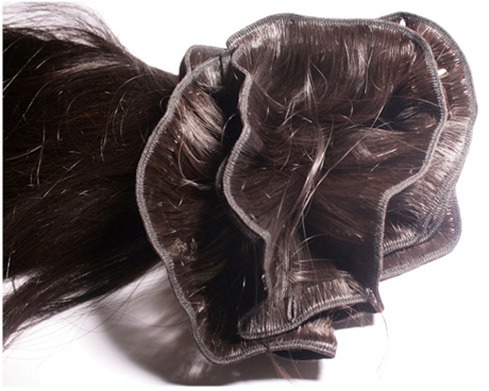 Superior hair
Product Code : 420
Product Description
Madras Hair Extensions's hair undergoes a unique and thorough process. We have access to the best raw hair in India. We select only the healthiest hair from willing female donors under 30 years of age. This way we only handle healthy hair with few split ends or grays.

Our hair undergoes a 4 step process to ensure it meets our superior standards:

Cleanse

: Raw hair undergoes a 4 step shampoo process in which hair is thoroughly cleansed in our herbal solution and followed with a cleansing bath in our organic cleansing extract. No acid! This opens the cuticles for penetration of our herbal conditioner.

Refine

: All inverted or short strands and grays are carefully removed by hand while maintaining cuticle alignment.

Condition

: The clean hair is then soaked for a period of days in our organic conditioning agent when fully penetrates the hair and seals the cuticle, resulting in moisturized healthy hair with a natural sheen. The sealed cuticles provide protection against environmental agents that would otherwise harm the hair.

Prepare

: Loose hair is wefted, tipped, or ventilated into lace to create our finished product. We offer machine wefts, hand tied wefts, clip in (on) extensions, I-tip, U-tip, V-tip extensions, full lace wigs, front lace wigs, lace closures and frontals, and hair care products and vitamins, and hair tools....to name a few!

Test

: We perform both wet and dry combing tests to ensure the finished product meets our standards of strength, elasticity, and moisture retension.
Our hair preparation process is conducted entirely by hand using only 100% organic solutions. Very few companies, if any, have the know-how to produce hair on our level. Our 100% virgin Indian hair comes in natural straight, wavy, and curly textures. We also offer dark, medium, and light auburn. Our auburn shades have been treated by a delicate process of de-pigmentation, which slowly and thoroughly removes hair pigment over a period of 15 to 20 days.This results in a precise hair color, with 100% of its virgin qualities. Our organic herbal solution slowly removes all dark pigments and pushes them outside of the hair cuticle. We do not use Ammonia derivatives, such as bleach, which damage the outside cuticle and create an inferior inconsistent color. As a result, our Indian Remy hair extensions and lace wigs maintain 100% of their virgin qualities and last for 1 to 2 years!
Following de-pigmentation, our hair undergoes a thorough conditioning process in which hair is soaked for a period of days in our 100% natural herbal solution. This results in the highest quality natural human hair with a beautiful healthy sheen. We do not use silicone or any other artificial substance to beautify our hair.
Through our organic preparation process, we are able to maintain excellent quality without exception! We offer a wide range of colors, lengths, and textures in our 100% natural Indian Remy hair. Our truly organic preparation process is environmentally friendly. We only use natural resources to de-pigment and condition our hair which prevents the release of harmful toxins into the environment.